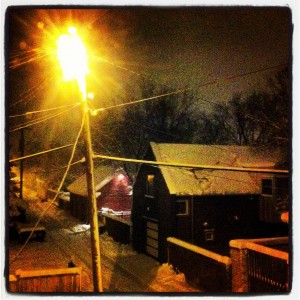 Yesterday was one of the days that all true Minnesotans live for. It was our first snow storm, and boy was it beautiful.
Ever since I was a boy I've loved waking up to white mounds of pillowy snow hung from the branches of dense evergreens. I can't imagine a winter without it.
It's both refreshing and invigorating to wake up in a world that is vastly different from the one you left before drifting off to the Land of Nod. Looking out the window and seeing a new world upon waking makes you lay in bed longer than normal, listening to the almost silent footsteps of snowflakes finding their final resting place.
After a while, you pull yourself out from under the heavy comforter and make your way out to the kitchen while your slippers roughly scrape against the floor beneath you. Everything in that falling silence is somehow refreshed, just like the world outside. You find that coffee becomes bolder, bacon sizzles a bit louder, and as you sit down in your creaky kitchen chair you begin to contemplate what you'll do with your snow day.
You're snowed in, and surely you'll make a hearty meal that'll need to slowly cook all  day.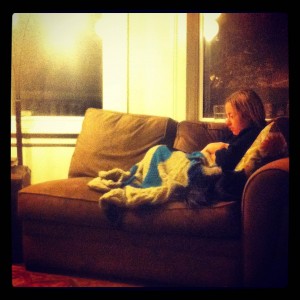 Maybe soup, or a roast, but what will you do with your afternoon as your feast slowly simmers? Perhaps you'll read a book, or do nothing but watch movies all day. Maybe you'll take the dogs out for a long walk in the snow and then drift helplessly in and out of sleep as the TV carries on without you.
At some point you'll have to get up to shovel the walk or driveway, but it's all part of the experience. You'll wave at neighbors, smile at kids playing in the street, and as you get a bit of exercise you'll think fondly of your feast warmly roasting inside.
Winter storms aren't for everyone, and by February they can get a bit tired, but those first ones of the year always have the potential to be magic. For me personally, blizzards help to revive my childhood spirit, and make me wish I was on some grand adventure with wizards and dragons.
I hope you all enjoyed our storm, and I wish you all the best, dear readers. May you have a perfectly wonderful winter 🙂